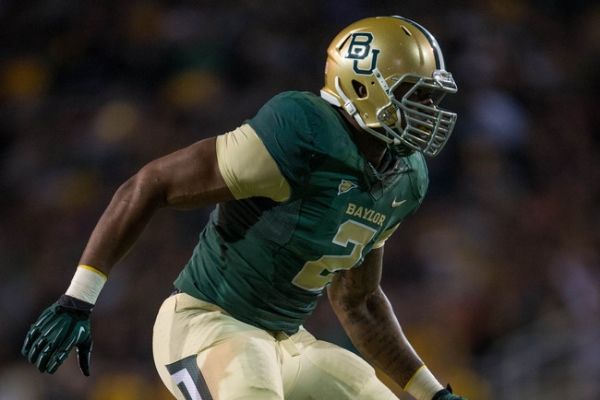 #2, Shawn Oakman, DE, Baylor
2014 NFL Mock Draft:
Round 1
(Thursday, November 7, 2013)
The Week 10 edition of my 2014 NFL Mock Draft. Draft Order is determined by win-loss record. Strength of schedule, divisional record, and conference record in that order were the tie-breakers. In other words, if the draft were held today, this would be the official order.
You can view my
2014 NFL Prospect Rankings
here and my
2014 NFL Draft Big Board
here.


1. Tampa Bay Buccaneers
Teddy Bridgewater*, QB, Louisville
Ht: 6-3 Wt: 196 lbs. | Class: Junior
Analysis:
Bucs Head Coach Greg Schiano is on the hot seat, and is likely to be fired by season's end. In fact, Bucs GM Mark Dominik could lose his job also. If this is the case, expect the new regime to select a quarterback with the first overall pick.
At the top of the quarterback class is Louisville signal-caller Teddy Bridgewater. Marcus Mariota of Oregon seems to be closing the gap, but Bridgewater is the premiere player at the position.
- If Greg Schiano and/or Mark Dominik don't lose their jobs, they could continue to roll with Mike Glennon, selecting the best overall player in the draft, Jadeveon Clowney.


2. Jacksonville Jaguars
Marcus Mariota**, QB, Oregon
Ht: 6-4 Wt: 211 lbs. | Class: Sophomore (RS)
Analysis:
Jaguars fans know that their team will be in a position to select a quarterback in the first round. The question is, Teddy Bridgewater or Marcus Mariota? With the former off the board, Mariota is the next best thing.
Marcus Mariota is the real deal. He's much further along than he was last season, and his ceiling is extremely high.


3. Minnesota Vikings
Derek Carr, QB, Fresno State
Ht: 6-3 Wt: 218 lbs. | Class: Senior (RS)
Analysis:
I went back-and-forth with Minnesota's pick. They desperately need a franchise quarterback, but there are only two "elite" quarterback prospects. So would it be best if they waited until the second round to select a quarterback, going with the best available player here?
Probably not. Even though is in the next tier of quarterbacks, the consensus in the draft community is that Derek Carr will rise in the coming months. Carr is my #3 quarterbacks, and the Jay Cutler comparisons are obvious. He has the arm, accuracy, and intangibles you want in a franchise quarterback.


4. Atlanta Falcons
Jadeveon Clowney*, DE, South Carolina
Ht: 6-6 Wt: 274 lbs. | Class: Junior
Analysis:
Atlanta must fix it's offensive line issues, but they must also address their inept pass rush. Going with the best player available makes the most sense.
If Jadeveon Clowney is still on the board, I don't see how Atlanta can pass on him. Clowney is a freakish athlete, and an elite talent.


5. Pittsburgh Steelers
Jake Matthews, OT, Texas A&M
Ht: 6-5 Wt: 305 lbs. | Class: Senior
Analysis:
Considering the fact that Jake Matthews could easily be gone by the time they pick, Pittsburgh should immediately send in their selection.
Matthews is the premiere left tackle prospect in this year's draft. Mike Adams and Marcus Gilbert are just not the answer(s). They've got to kept Big Ben upright.


6. New York Giants
Anthony Barr, OLB, UCLA
Ht: 6-4 Wt: 248 lbs. | Class: Senior
Analysis:
With Jake Matthews off the board, it should be a much easier decision for the Giants. They miss out on Clowney, but some will argue that Anthony Barr is the better prospect.
He can rush from the outside linebacker position, which is also a pretty big need for them. Once Jason Pierre-Paul becomes completely healthy, their pass rusher will be rejuvenated.


7. Houston Texans
Louis Nix III*, NT, Notre Dame
Ht: 6-3 Wt: 357 lbs. | Class: Junior (RS)
Analysis:
Is Case Keenum really the answer at quarterback? He has been a significant upgrade over Matt Schaub, but in the coming weeks, we will see if he can hold down the job going forward.
Assuming that he does, look for the Texans to address their defense. Earl Mitchell and Terrell McClain will be free agents, which could prompt them to select Louis Nix III.


8. Saint Louis Rams
Mike Evans**, WR, Texas A&M
Ht: 6-5 Wt: 225 lbs. | Class: Sophomore (RS)
Analysis:
The Rams have a few holes to fill on the defensive side of the ball, and they also must decide if they should move on from Sam Bradford.
However, If they have a chance to take him, I don't see how the Rams pass on Mike Evans. He is a stud, and would be the true number one receiver Sam Bradford needs to take the next step.


9. Buffalo Bills
Taylor Lewan, OT, Michigan
Ht: 6-8 Wt: 308 lbs. | Class: Senior (RS)
Analysis:
Buffalo would benefit from spending its first round pick on an offensive lineman. Since they're selecting in the top 10 in this mock, offensive tackle is most likely.
Taylor Lewan is currently the second best tackle in the draft. Ideally, he would start at left tackle, allow Cordy Glenn to kick inside to guard.


10. Baltimore Ravens
Sammy Watkins*, WR, Clemson
Ht: 6-1 Wt: 205 lbs. | Class: Junior
Analysis:
As you can see, Baltimore has underachieved this season. They aren't getting enough production on offense. Needing more play makers, Joe Flacco would be very happy if Baltimore gave him some more help.
Sammy Watkins is a dynamic, versatile weapon in the passing game. With Torrey Smith on the other side, they would form a tough receiver tandem.


11. Oakland Raiders
Cedric Ogbuehi*, OT/OG, Texas A&M
Ht: 6-5 Wt: 300 lbs. | Class: Junior (RS)
Analysis:
Terrelle Pryor may or may not be the answer at quarterback. At this point, they'll probably stick with him, and avoid drafting a quarterback early.
Addressing the offensive line is a must. Cedric Ogbuehi should be a top 16 pick should he declare. He can kick inside to guard if need be, but he'll most likely solidify one of the tackle spots.


12. Saint Louis Rams
Ha'Sean Clinton-Dix*, FS, Alabama
Ht: 6-1 Wt: 208 lbs. | Class: Junior
(via Washington)
Analysis:
With their second first round pick, it would be wise for the Rams to spend it on the best defensive player that fills a need. That would be Ha'Sean Clinton-Dix.
Arguably Alabama's top 2014 draft prospect, "Ha Ha" Clinton-Dix is easily the best safety in this year's draft. He should be drafted as highly as Kenny Vaccaro was.


13. Philadelphia Eagles
Johnny Manziel*, QB, Texas A&M
Ht: 6-1 Wt: 210 lbs. | Class: Sophomore (RS)
Analysis:
Nick Foles put together one of the best performances in NFL history on Sunday. In fact, besides his terrible performance against Dallas, he's played fairly well. However, I still believe Chip Kelly will draft a QB that fits his offense.
Johnny Manziel could be the perfect fit. Chip Kelly recruited Manziel to Oregon, where the current Texas A&M quarterback committed before committing to A&M. If there's one team that takes a chance on Manziel, it's the Eagles.


14. Cleveland Browns
Zach Mettenberger, QB, Louisiana State
Ht: 6-5 Wt: 230 lbs. | Class: Senior (RS)
Analysis:
Cleveland is a legitimate franchise quarterback away from being a serious playoff contender. Even picking in the middle of round one, they have a chance to take Zach Mettenberger.
Mettenberger has put together a brilliant 2013 season, and could be on his way to warranting a top 10 selection. He may be the best vertical passer in the draft, which is what they are looking for in this offense.


15. San Diego Chargers
Ifo Ekpre-Olomu*, CB, Oregon
Ht: 5-10 Wt: 190 lbs. | Class: Junior
Analysis:
San Diego needs to improve its secondary. They definitely need to address the cornerback position specifically, maybe even in round one.
Ifo Ekpre-Olomu has emerged as the top corner back prospect. He has the makings of a true number one corner, which could make him a high first round pick.


16. Arizona Cardinals
Antonio Richardson*, OT, Tennessee
Ht: 6-6 Wt: 327 lbs. | Class: Junior
Analysis:
It's possible that Arizona considers drafting a quarterback as early as the first round. At this point, any quarterback they target would be a reach.
Antonio Richardson has been very impressive this season, and could solidify the left tackle spot for the Cardinals, which is a huge need for them.


17. Miami Dolphins
Cyrus Kouandjio*, OT, Alabama
Ht: 6-6 Wt: 310 lbs. | Class: Junior
Analysis:
This pick probably doesn't need to be explained in detail. Ryan Tannehill has taken a beating this season, and in order for him to stay healthy, they've got to protect him.
Cyrus Kouandjio seems to be improving each game. He has a tough test coming against LSU. If he plays well, it should only help his case as a first round pick.


18. Tennessee Titans
Eric Ebron*, TE, North Carolina
Ht: 6-4 Wt: 245 lbs. | Class: Junior
Analysis:
I keep mocking tight ends to the Titans early, because it makes a lot of sense. Jake Locker would benefit from having a pass catching tight end.
Jace Amaro is right behind him, but Eric Ebron has emerged as the top tight end prospect in this year's class. He should be a first round pick.


19. Chicago Bears
Michael Bennett*, DT, Ohio State
Ht: 6-3 Wt: 285 lbs. | Class: Junior
Analysis:
Henry Melton tore his ACL earlier in the year, and there is a strong possibility that he won't be back. Looking to add some young talent on defense, the interior is a good place to start.
Michael Bennett flashes when you watch Ohio State. He may or may not declare, but could definitely be a first rounder if he does so.


20. Green Bay Packers
Marqise Lee*, WR, Southern California
Ht: 6-0 Wt: 195 lbs. | Class: Junior
Analysis:
James Jones is yet another upcoming free agent who may sign with a new team come this off-season. In a loaded receiver class, the Packers could wait, but they may not be able to pass on Marqise Lee.
Lee has gained some doubters this season, but the consensus is that he is still a legit first round talent. Though he may not be the first receiver drafted like previously thought, he's gonna be a steal for some team.


21. New York Jets
Jace Amaro*, TE, Texas Tech
Ht: 6-5 Wt: 260 lbs. | Class: Junior
Analysis:
The best way to help a young quarterback grow is to give him as many reliable weapons as possible. Whether it's a receiver, or a tight end, their first round pick should be spent on a pass catcher.
Jace Amaro has drawn some Jimmy Graham comparisons. I'm not sure he's on Graham's level as a prospect, but he is definitely going to garner consideration in round one.


22. Dallas Cowboys
Shawn Oakman**, DE, Baylor
Ht: 6-9 Wt: 270 lbs. | Class: Sophomore (RS)
Analysis:
Dallas will likely look to replace Anthony Spencer this off-season. This year's 4-3 defensive end class isn't regarded highly, but a "surprise entry" could make things interesting.
Just a redshirt sophomore, Shawn Oakman looks like a future top 10 pick. I was able to watch a cut up of Oakman vs. Iowa State courtesy of DraftBreakdown.com. He was flat out dominant, and he has flashed the other times I've been able to watch Baylor. Get to know him.


23. Carolina Panthers
Brandin Cooks*, WR, Oregon State
Ht: 5-10 Wt: 186 lbs. | Class: Junior
Analysis:
I'm still not completely sold on Brandon LaFell, and Steve Smith is in the final stage of his career. Cam Newton has shaken off a rocky start, but he needs a couple of more weapons.
If Tavon Austin was a first round pick, there's no reason that Brandin Cooks cannot be. He is a dynamic receiver who can make contested catches. Despite his small frame, he's a potential number one receiver.


24. Cincinnati Bengals
Khalil Mack, OLB, Buffalo
Ht: 6-3 Wt: 248 lbs. | Class: Senior (RS)
Analysis:
Khalil Mack is generating buzz as a potential top 10 draft pick. No doubt that the versatile linebacker will be a first round pick in general.
Outside linebacker is still a position of concern going forward. With Mack drawing some comparisons to Von Miller, it would be hard for them to pass.


25. Detroit Lions
Jason Verrett, CB, Texas Christian
Ht: 5-10 Wt: 176 lbs. | Class: Senior
Analysis:
The Lions still don't have a number one cornerback, so they would be wise to spend an early pick on one. With Verrett still on the board, they shouldn't pass him up.
Jason Verrett is the top ranked senior corner, and despite his size, there is a real possibility that he is the first corner drafted.


26. San Francisco 49ers
Bradley Roby*, CB, Ohio State
Ht: 5-11 Wt: 192 lbs. | Class: Junior
Analysis:
The cornerback position definitely needs to be addressed going forward, and if Bradley Roby is still on the board at this point, the '9ers may save him from free-falling.
It hasn't been the year he expected, but Roby has the rest of the season to improve his falling draft stock. His athleticism and ball skills set him apart from other defensive backs.


27. Cleveland Browns
Odell Beckham Jr.*, WR, Louisiana State
Ht: 6-0 Wt: 187 lbs. | Class: Junior
(via Indianapolis)
Analysis:
Needing another pass catcher, Odell Beckham Jr. makes a lot of sense. He is yet another dynamic receiver who would really help out this offense.
Beckham Jr. and his teammate Jarvis Landry are both very good, but as of now, I'm leaning towards Beckham Jr. the most as a first round pick. With he and Mettenberger having so much chemistry, that makes this pick even sweeter.


28. Denver Broncos
Trent Murphy, DE, Stanford
Ht: 6-6 Wt: 261 lbs. | Class: Senior (RS)
Analysis:
In Von Miller's absence, Denver's defensive ends have done a solid job of generating pressure and getting sacks. However, both Shaun Phillips and Robert Ayers are upcoming free agents, and Denver could use another consistent pass rusher.
Trent Murphy has had a big season up to this point. He is currently third in the FBS in sacks, and impacts the game in a variety of ways. Ultimately, he could be drafted in the top half of round one.


29. New Orleans Saints
Cameron Erving*, OT, Florida State
Ht: 6-6 Wt: 320 lbs. | Class: Junior (RS)
Analysis:
Starting tackles Charles Brown and Zach Strief may not be back next season. Terron Armstead should emerge at one of the tackles spots, leaving the other void.
Cameron Erving is much improved this season, and held his own against speed rusher Vic Beasley a few weeks ago. He should be a first round pick.


30. New England Patriots
Ryan Shazier*, OLB, Ohio State
Ht: 6-2 Wt: 222 lbs. | Class: Junior
Analysis:
New England's young receivers are starting to emerge, and this year's group of wideouts is extremely deep. Therefore, another position of need can be addressed.
Brandon Spikes will be a free agent at season's end, and will need to be replaced if he's not retained. I have C.J. Mosley graded higher, but Ryan Shazier could end up being the first non-pass rushing linebacker selected.


31. Seattle Seahawks
Cyril Richardson, OG/OT, Baylor
Ht: 6-5 Wt: 335 lbs. | Class: Senior (RS)
Analysis:
No question about it, Seattle needs to make sure their franchise quarterback is kept upright. At the end of round one, Cyril Richardson would be a great value pick.
The Baylor guard should be the first interior offensive lineman drafted. He doesn't grade as highly as Chance Warmack or Jonathan Cooper, but he's a potential first round pick.


32. Kansas City Chiefs
C.J. Mosley, ILB, Alabama
Ht: 6-2 Wt: 232 lbs. | Class: Senior
Analysis:
C.J. Mosley is one of the ten best players in the draft. But, because of positional value, he could slide. Luckily, the Chiefs would be in a position to save him from falling out of the first round.
Mosley projects as an ideal 3-4 inside linebacker in the NFL. Pairing him with Derrick Johnson would give them an impressive tandem at the position.